Banda University of Agriculture and Technology, Banda
Banda University of Agriculture and Technology, Banda has been established as a full-fledged State University, having unique honour of being the "First Agricultural University of Bundelkhand Region". The University was notified vide Government Order No. 301/79-V-1-10-1 (Ka) 27-2009 Lucknow and established on 2nd March 2010 under Uttar Pradesh Agriculture University Act (Sanshodhan) 1958 Gazette-Adhiniyam 2010. Initially it was named as "Manyawar Shri Kanshiram Ji University of Agriculture and Technology, Banda", which was changed as "Banda University of Agriculture and Technology, Banda" vide Uttar Pradesh Agriculture University Act (Sanshodhan) Adhiniyam, 2014, No. 1528(2)/LXXIX-V-1-14-1(Ka)-13-2014 dated 4th December 2014.
The University has been established for the development of the agriculture and allied sectors in the Uttar Pradesh on the whole and Bundelkhand region in particular. It is committed to serve the Bundelkhand region with trinity concept, i.e. complete integration of teaching, research and extension for the development of agriculture and allied sectors in order to ensure food security and enhance socio-economic status of inhabitants. State Government of Uttar Pradesh has assigned the University with the responsibilities of (a) human resource generation and development, (b) generation and perfection of technologies, and (c) their dissemination to the farmers, orchardists and dairy farmers in the Chitrakoot Dham and Jhansi divisions. The Chirtrkoot Dham Division consists of four districts, namely Banda, Chitrakoot (Karvi), Mahoba and Hamirpur whereas Jhansi Division consists of Jhansi, Lalitpur and Jalaun (Orai) districts.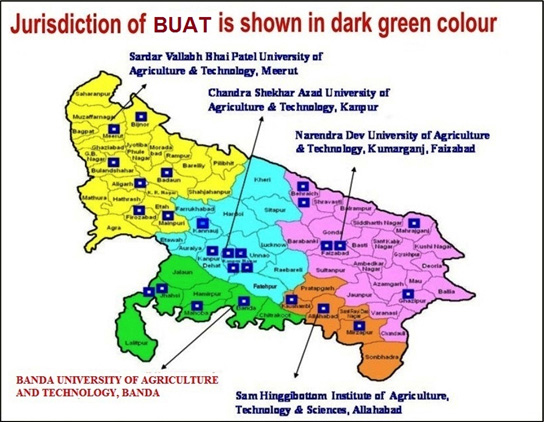 Krishi Vigyan Kendra, Belatal, Mahoba
Krishi Vigyan Kendra, Belatal, Mahoba was established in 2004 under the aegis of C.S. Azad University of Agriculture of Agriculture and Technology, Nawabganj Kanpur. The prime goal of KVK Mahoba is to accelerate agricultural and allied production in the operational area besides imparting training as per trainings needs and requirements of the farmers, farm women and rural youths including school drop-outs in the rural areas for self-employment and enhancing the productivity. This KVK was Transfer under administrative control of Banda University of Agriculture and Technology, Banda on dated 1st April, 2017.
Since, the inception of Krishi Vigyan Kendra in the year 2017 under the auspicious Institution BUAT, Banda, this KVK has been constantly making conspicuous contribution in the area of agricultural and allied enterprises along with women empowerment, entrepreneurship development. Despite the urbanization, infrastructure development, horizontal agriculture development has sustained the income level of agrarian masses of the district. Timely transfer of appropriate and cost-effective technologies based on felt needs of the peoples is its main focus.
KVK identified major thrust area of the district based on which KVK is preparing plans and implemented mandated activities i.e. Introduction of High yielding, short duration and drought tolerant varieties of quality seed of pulses, oilseeds, cereals and planting materials of vegetables and fruits, Watershed management in rainfed areas and promotion of Resource conservation technologies, Integrated farming for judicious use of farm resources, employment and income generation especially for marginal and small farmers through diversification of agriculture, Organic production, Formation and mobilization of farmers and farm women groups, Production and productivity improvement through IPM and IDM approach, Increase livestock productivity by implementing Feed management, Breed Improvement, and health care, Educating farmers about ill effects of "Anna Paratha", Promotion of protected cultivation practices in horticultural crops, Reduction of post-harvest losses and promotion of Value addition, Drudgery reduction and Malnutrition for empowerment of rural women.